Basic Brewing Radio™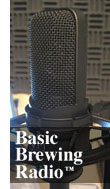 Find an archive of experiment episodes here.
At Basic Brewing Radio, we're all about home brewing. Each week, we hope to bring to you interesting interviews with people who can shed light on the hobby, share an interesting story, or give expert advice to help us all become better home brewers.
We plan to make each show short and to the point, because we know how precious your time (and bandwidth) can be.
New to podcasting? Check out our guide.

Our Basic Brewing Gallery shows off photos of listeners and viewers wearing our apparel in cool places.
Download Greg O'Grady's Quantity Converter Spreadsheet (Excel document).
April 9, 2020 - Defending Brown Ales

Adam Ross, head brewer at Twin Span Brewing, brings a counterpoint defense of Brown Ales in response to Chris Colby's previous rant.
April 2, 2020 - Brown Ale or Brown Fail

Homebrew author Chris Colby gives us tips on brewing the best example of his least favorite style of beer.
March 26, 2020 - Lilly Belle Meads

Tricia and Joe Marshall of Lilly Belle Meads in Lancaster, New York, share five delicious honey-based beverages. Our friend, Paul Morstad, helps to sample.
March 19, 2020 - Malt Sampler - Maris Otter, Golden Promise, Briess Pale Ale

James and Steve venture into the future with a new series, comparing three malts brewed in small batches.
March 12, 2020 - Guile Brews

Homebrewing author Peter Symons talks about his latest historical exploration of beers, Guile Brews, which contains more than a hundred years of recipes from the UK and Ireland.
March 5, 2020 - Homebrew Con and AHA Update

Gary Glass, director of the American Homebrewers Association, joins us to preview Homebrew Con in Nashville in June and other AHA-related topics.
February 27, 2020 - Fort Smith Brewing Company

James travels to the old Fort Chaffee Army base that has a rock 'n roll history and talks to brewer Quintin Willard about his beers and Arkansas Craft Beer Week.
February 20, 2020 - Hop Sampler - Sterling, Triumph, Horizon

Steve and James sample another round of single-hopped small batches, adding some time in the boil to the recipe.
February 13, 2020 - Count Chocula Experiment

Homebrewers Adam Amdor and Roy Ventullo share their experiment comparing milk stouts with and without Count Chocula cereal and one beer with cereal added into the fermenter post fermentation.
February 6, 2020 - Whistling Springs Brewing

In the second part of a chat with brewer Chris Nogy, James samples beers from Whistling Springs in southern Missouri.
January 30, 2020 - Hop Stand Length Experiment

James and Steve test the results of an experiment comparing different hop stand lengths in the Hop Sampler recipe.
January 23, 2020 - Dark Hills Gluten Free Brewery

Chris Nogy of Dark Hills Brewery talks about brewing gluten free beers on a farm in southern Missouri.
January 16, 2020 - Dry Hopping Hazy Pale Ales

Scott Janish of Sapwood Cellars and author of The New IPA – A Scientific Guide to Hop Aroma and Flavor gives us tips on dry hopping delicious hazy beers.
January 9, 2020 - Wine for Beer Lovers

Jim Laughren, author of A Beer Drinker's Guide to Knowing and Enjoying Fine Wine, gives us beer folks some tips on demystifying the wine side.
January 2, 2020 - Granola Bar Experiment

Brook Baber and Dave Bauter share their nine-part experiment using three different flavors of granola bar to brew beer.
---