Basic Brewing Radio™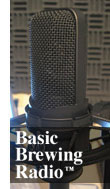 Find an archive of experiment episodes here.
At Basic Brewing Radio, we're all about home brewing. Each week, we hope to bring to you interesting interviews with people who can shed light on the hobby, share an interesting story, or give expert advice to help us all become better home brewers.
We plan to make each show short and to the point, because we know how precious your time (and bandwidth) can be.
New to podcasting? Check out our guide.

Our Basic Brewing Gallery shows off photos of listeners and viewers wearing our apparel in cool places.
Download Greg O'Grady's Quantity Converter Spreadsheet (Excel document).

February 23, 2017 - Frost Fest 2017

James wanders around Frost Fest in Fayetteville, Arkansas, to sample beers and get some homebrewing tips from professional brewers.
February 16, 2017 - Hop Tweaking

Chris Colby, editor of Beer and Wine Journal and author of the Homebrew Recipe Bible, talks about hop substitution and ways to change up the hopping of your beers.
February 9, 2017 - Mead Best Practices

Ricky the Meadmaker from Groennfell and Havoc Meaderies in Vermont talks about sharing his
recipes online
and shares his best meadmaking practices.
February 2, 2017 - African Palm Wine

Homebrewer Ryan Deaver joins us to talk about spontaneously fermented palm wine he researched in the west African country of Benin.
January 26, 2017 - Recipe Formulation Tips

Brad Ring and Betsy Parks from Brew Your Own magazine talk about their new Big Book of Homebrewing and share tips on coming up with your own homebrew recipes.
January 19, 2017 - AHA Update

Gary Glass, director of the American Homebrewers Association, updates us on the state of our hobby, upcoming National Homebrew Competition deadlines and new events at the Minneapolis HomebrewCon.
January 12, 2017 - Swiss Spruce Porter

Homebrewer Will Schumacher talks about his experiments brewing with spruce that he foraged from his time in Switzerland.
January 5, 2017 - Plain, Coconut, and Mole Porter

James and Steve take advantage of a beautiful day to sample three porters on the porch, all from the same batch.
---