Basic Brewing Radio™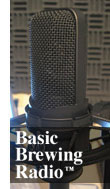 Find an archive of experiment episodes here.
At Basic Brewing Radio, we're all about home brewing. Each week, we hope to bring to you interesting interviews with people who can shed light on the hobby, share an interesting story, or give expert advice to help us all become better home brewers.
We plan to make each show short and to the point, because we know how precious your time (and bandwidth) can be.
New to podcasting? Check out our guide.

Our Basic Brewing Gallery shows off photos of listeners and viewers wearing our apparel in cool places.
Download Greg O'Grady's Quantity Converter Spreadsheet (Excel document).

March 6, 2014 - Stout Experiment

Homebrewer Tyson Schindler shares his experiment splitting a stout into smaller batches and flavoring them differently.
February 27, 2014 - Homebrew Toxicology Pt. 3

Toxicologist Paul joins us for the third part of our exploration of whether our ingredients, processes, or equipment are hazardous.
February 20, 2014 - High Tech Brew in a Bag

Icelandic homebrewers Eyvindur Karlsson and Sigurdur Gudbrandsson talk about the brewing culture in their country and their method of stepping up BIAB.
- Watch a YouTube video of Eyvi and Siggi's setup
February 13, 2014 - Sourdough Beer Experiment

Homebrewer Karl Kornfeld talks about his experiment brewing a beer using only sourdough starter for yeast. He also shares a Star Trek inspired beer.
February 6, 2014 - Scaling Homebrew Batches

Chris Colby of Beer and Wine Journal shares tips on scaling up and scaling down homebrew batches and recipes.
January 30, 2014 - Two-Year Sour Experiment

Homebrewer Dan Pixley takes us through an ongoing experiment brewing sour beers from commercial dregs. Also, Dr. Martin O'Neill talks about the new brewing program at Auburn University.
January 23, 2014 - Beer Cheese

Homebrewer Matthew Jannette shares his experiment combining two of our favorite things: beer and cheese.
January 16, 2014 - NHC Registration
Gary Glass, director of the American Homebrewers Association, explains the new registration procedure for the National Homebrew Competition and looks forward to the National Homebrewers Conference in June.
January 9, 2014 - Ken Schramm on Mead
Ken Schramm, author of The Compleat Meadmaker and owner of Schramm's Mead joins us to talk about his new commercial venture and answer your mead making questions.
January 2, 2014 - Brewing Barleywines
Chris Colby of Beer and Wine Journal shares tips on brewing high gravity barleywines.
---