Basic Brewing Radio™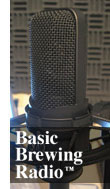 Find an archive of experiment episodes here.
At Basic Brewing Radio, we're all about home brewing. Each week, we hope to bring to you interesting interviews with people who can shed light on the hobby, share an interesting story, or give expert advice to help us all become better home brewers.
We plan to make each show short and to the point, because we know how precious your time (and bandwidth) can be.
New to podcasting? Check out our guide.

Our Basic Brewing Gallery shows off photos of listeners and viewers wearing our apparel in cool places.
Download Greg O'Grady's Quantity Converter Spreadsheet (Excel document).
February 25, 2021 - Sugar Creek Malt Sampler

James and Steve sample small batches brewed with specialty malts from Sugar Creek Malt Company – lavender smoke, crystal rye, and bourbon barrel aged chocolate malt.
February 18, 2021 - Swedish Hop Sampler

James and Steve taste small batches with Swedish hops sent by listener Marcus: Svalof Mauritz, Korsta and Hulla Norrgard.
February 11, 2021 - Sugar Creek Malt Company

Caleb Michalke and John Beal from Sugar Creek Malt Company in Indiana talk about using traditional techniques to create some innovative malts.
February 4, 2021 - Wort Tests

Casey Helwig from Imperial Organic Yeast walks us through three standard procedures to test the quality of our wort.
January 28, 2021 - Yeast Nutrition and Health

Chris Colby, author of How to Make Hard Seltzer, addresses some of the factors in keeping yeast happy and healthy in fermentations.
January 21, 2021 - Man Made Mead Myths

Garrett from the Man Made Mead YouTube channel walks us through four experiments he's done challenging traditional wisdom in brewing meads.
January 14, 2021 - Gezellig Brewing Company

James talks with Grant Heuer, Lucas Greta and Betsy Duffy from Gezellig Brewing in Newton, Iowa, about their recent extremely sucessful competition performance.
January 7, 2021 - Hop Sampler - Amarillo, Hallertau Mittelfruh Blend

James and Steve taste individual examples and a blend of a traditional European hop and a relatively new American one.
---