Basic Brewing Radio™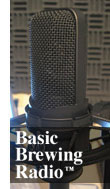 Find the Brew Your Own - Basic Brewing Radio Collaborative Experiment data form here.
Also, find an archive of all the BYO-BBR experiment episodes here.
At Basic Brewing Radio, we're all about home brewing. Each week, we hope to bring to you interesting interviews with people who can shed light on the hobby, share an interesting story, or give expert advice to help us all become better home brewers.
We plan to make each show short and to the point, because we know how precious your time (and bandwidth) can be.
New to podcasting? Check out our guide.

Our Basic Brewing Gallery shows off photos of listeners and viewers wearing our apparel in cool places.
Download Greg O'Grady's Quantity Converter Spreadsheet (Excel document).

May 23, 2013 - Nebraska Brewing
Paul Kavulak of Nebraska Brewing Company talks about barrel aging as we sample four of his tasty beers.
May 16, 2013 - Alabama Legal
Brant Warren of Alabama's Right to Brew gives us a behind-the-scenes look at his state's new homebrew law and how it passed.
May 9, 2013 - Gordon Strong on Competitions
Gordon Strong, president of the Beer Judge Certification Program and author of Brewing Better Beer, joins us to talk about entering and judging competitions.
May 2, 2013 - Andy Barrel Update
James talks to Andy Sparks about what he's been doing with his eight-gallon whiskey barrel since we talked to him last about it.
April 25, 2013 - Homebrewer's Garden
Joe Fisher and Dennis Fisher, authors of The Homebrewer's Garden, join us to answer your questions from Facebook and Twitter.
April 18, 2013 - David Conz Tribute
A conversation with the late David Conz, Arizona State University professor and friend to homebrewers and good beer. Introduction by Rob Fullmer, president of the Arizona Society of Homebrewers.
- Dave's Slate article
- Rob's blog post
April 11, 2013 - Perceived Bitterness Experiment
Homebrewer Kevin Ellis shares an experiment comparing a beer with zero calculated IBUs against a more traditionally hopped beer. Brad Sturgeon supplies lab results.
April 4, 2013 - Alabama House Debate
The Alabama homebrew bill is one step closer to becoming law after passing the state House of Representatives. We listen in on the debate.
March 28, 2013 - Colorado Malting Company
Jason Cody, president of the Colorado Malting Company, talks about how his family farm went from being a grain supplier to becoming a maltster of craft malt.
March 21, 2013 - The New Mr. Beer
Shawn Halstead of Mr. Beer talks about changes in his company and product line, and Craig Hendry from Raise Your Pints celebrates legal homebrew in Mississippi.

March 14, 2013 - West Mountain Brewing
Andy Coates, brewer of West Mountain Brewing in Fayetteville, Arkansas, talks about his current position and plans for launching a new brewery.
March 7, 2013 - Zot's Specialty Grain Experiment
Zot O'Connor joins us to talk about his experiment in adding specialty grains to a finished beer to taste the effects.
February 28, 2013 - Peoples Brewery
Homebrewer Lamel Moore tells the story of Peoples Brewery - the first African American-owned brewery. Lamel also shares recipes designed to mimic the original Peoples brews.
February 21, 2013 - Core Brewing Revisit
Jesse Core of Core Brewing and Distilling in Springdale, Arkansas, gives us a grand tour of the expansion that has happened since we first visited a year ago.
February 14, 2013 - Water Chemistry Calculator
Kai Troester talks about his Mash Chemistry and Brewing water Calculator and walks us through using it to improve our water for brewing.
February 7, 2013 - Gary Glass Update
Gary Glass, director of the American Homebrewers Association, talks about the National Homebrewers Conference, homebrew legislation in Mississippi and Alabama, and changes to the National Homebrew Competition.
January 31, 2013 - Dark Lagers
Homebrewers Nathan Zeender and Michael Tonsmeire, the Mad Fermentationist, bring us up to date on their pro brewing careers and talk about brewing lagers from the dark side.
January 24, 2013 - Milling Grain
Chris Colby, editor of Brew Your Own magazine, explains the basics of getting the best crush of your grain for all grain brewing.
January 17, 2013 - Specialty Grain Experiment
Homebrewer Darnell Brawner shares his experiment looking at how Carastan, crystal 40, and crystal 60 affect the same recipe.
January 10, 2013 - For the Love of Hops
Author Stan Hieronymus joins us to talk about his latest book, For the Love of Hops: The Practical Guide to Aroma, Bitterness and the Culture of Hops.
January 3, 2013 - Bronze Age Brewing
Archaeologist Ian Hill describes an ancient brewing site in Cyprus and talks about his own homebrew experiment attempting to brew bronze age beer.
---