Basic Brewing Radio™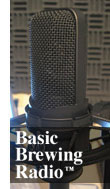 Find an archive of experiment episodes here.
At Basic Brewing Radio, we're all about home brewing. Each week, we hope to bring to you interesting interviews with people who can shed light on the hobby, share an interesting story, or give expert advice to help us all become better home brewers.
We plan to make each show short and to the point, because we know how precious your time (and bandwidth) can be.
New to podcasting? Check out our guide.

Our Basic Brewing Gallery shows off photos of listeners and viewers wearing our apparel in cool places.
Download Greg O'Grady's Quantity Converter Spreadsheet (Excel document).

February 4, 2016 - Bronzed Brews

Peter Symons joins us from Sydney to talk about Bronzed Brews, his new book exploring the history of Australian brewing.
January 28, 2016 - Sugar Staggering Experiment

Malcolm Frazer of Brülosophy.com shares his experiment comparing the results of adding sugar to the fermenter all at once vs staggered over time.
January 21, 2016 - Hitting Original Gravity

Chris Colby, editor of Beer and Wine Journal, shares tips on hitting original gravity if things go awry during the brew day.
January 14, 2016 - Homemade Crystal Malt

Homebrewer Phillip McDaniel shares samples of crystal malt he made and his technique for making it.
January 7, 2016 - Tonsmeire Recipe Tips

Michael Tonsmeire, the Mad Fermentationist, shares his ten tips of what to consider when coming up with a beer recipe.
---