Basic Brewing Radio™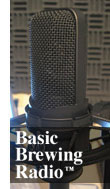 Find an archive of experiment episodes here.
At Basic Brewing Radio, we're all about home brewing. Each week, we hope to bring to you interesting interviews with people who can shed light on the hobby, share an interesting story, or give expert advice to help us all become better home brewers.
We plan to make each show short and to the point, because we know how precious your time (and bandwidth) can be.
New to podcasting? Check out our guide.

Our Basic Brewing Gallery shows off photos of listeners and viewers wearing our apparel in cool places.
Download Greg O'Grady's Quantity Converter Spreadsheet (Excel document).

March 15, 2018 - RIS Collaboration

James and Steve sample a big bourbon-barrel-aged Russian Imperial Stout that they contributed to and talk to barrel owner and project coordinator Reece Morrison.
March 8, 2018 - DC Homebrewers Adjunct Experiment

Omar Al-Nidawi, education co-chair of the DC Homebrewers Club, talks about an experiment comparing a dozen different brewing adjuncts. James and Steve are joined by Reece Morrison to sample.
March 1, 2018 - Hop Stand Temperature Experiment

James and Steve sample and evaluate a small batch experiment comparing three beers brewed with hop stands set at different temperatures.
February 22, 2018 - SQZBX Brewery and Pizza Joint

Brewer Zac Smith likes his beer like he likes his pizza and radio: local. James talks to Zac about his Reinheitsgebot-inspired approach to brewing quaffable session beers.
February 15, 2018 - A Year of Red IPA

Homebrewer Chris McKenzie wanted to perfect a recipe for Red IPA, so he brewed nothing but that style for a whole year. Then, he sent his beer to a competition to see what the judges thought.
- Chris' Brewing Blog

iTunes | Streaming mp3
February 8, 2018 - American Solera

We visit American Solera in Tulsa, which was named Best New Brewery in the U.S. in 2016 by RateBeer, and talk to founder Chase Healey about hoppy, fruity, and funky beers.
February 1, 2018 - John Palmer on NEIPA

John Palmer, author of How to Brew, shares brewing tips for one of the most controversial styles today: New England IPA.
January 25, 2018 - AHA Update with Gary Glass

AHA Director Gary Glass updates us on the National Homebrew Competition, HomebrewCon, and who homebrews nowadays.
January 18, 2018 - Milk Stout, Autumn Seasonal, and Saison Experiments

James talks about the results of a trio of split batch experiments using different strains of yeast with homebrewer Joe Covey.
January 11, 2018 - Non-Alcoholic Homebrew?

Homebrewer Brock Masters shares his experiment attempting to remove alcohol from a hoppy homebrew while preserving the freshness of the flavor and aroma.
January 4, 2018 - Six O'clock Brews

Author Peter Symons shares his second book, "6 O'clock Brews: Home Brewing More Old Australian Beers," which includes recipes for historic Australian beers and some of the British imports that influenced them.
---