Basic Brewing Radio™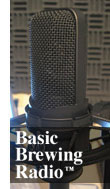 Find an archive of experiment episodes here.
At Basic Brewing Radio, we're all about home brewing. Each week, we hope to bring to you interesting interviews with people who can shed light on the hobby, share an interesting story, or give expert advice to help us all become better home brewers.
We plan to make each show short and to the point, because we know how precious your time (and bandwidth) can be.
New to podcasting? Check out our guide.

Our Basic Brewing Gallery shows off photos of listeners and viewers wearing our apparel in cool places.
Download Greg O'Grady's Quantity Converter Spreadsheet (Excel document).

January 22, 2015 - Kriek: 3 Step Fermentation

Matt Miller, AKA Dr. Lambic, explains his approach to fermenting lambics - with a fermentation step each for Lactobacillus, Saccharomyces, and Brettanomyces.
- Matt's blog post on brewing krieks
January 15, 2015 - Brewing Maibock

Chris Colby, editor of Beer and Wine Journal, give us some tips on brewing Maibock to enjoy in warmer times. Also, Chris answers a couple of carbonation-related mailbag questions.
January 8, 2015 - BrewTubers and the SJPorr Challenge

SJPorr from YouTube joins us to talk about the YouTube brewing community and the ambitious competition that bears his name.
January 1, 2015 - Homebrew Disasters

James and Steve read listener letters detailing homebrewing disasters from the past year.
---